The Malta Individual Investor Programme, a.k.a. The Malta Citizenship by Investment Programme, has been terminated permanently.


Malta Passport By Investment
If you are in this section, this means you are looking for a unique strategy to safeguard your future prosperity and security.
The Malta Citizenship by Investment Program is the first EU approved citizenship program offering second citizenship options to families wishing to relocate their personal or business affairs to an EU country.
This program could be the solution to every query you have.
What is the Malta Individual Investor Program (MIIP)?
It is an exclusive program designed by the Maltese Government for granting
Citizenship by Investment
.
You, your family and your business can benefit from this opportunity.
What are the benefits of Malta Citizenship by Investment?
Maltese Citizenship by Investment has both immediate and long-term benefits.
We thought we'd make it simpler for you and compile them in a list.
Business
Base your business in the European Union's fastest-growing economy;

Opportunity to unlimited access to the European Union (EU), the world's largest economic zone;

Total freedom of capital and income movements;

Make the most from endless investment options in a stable and booming real estate market.
Travel
Gain one of the world's most powerful passports;

Easily travel to 184 countries, including the USA, Canada and Australia. So no more visa application hassles;

Travel without border checks across 26 Schengen visa countries. That means you require no passport checks and no customs checks.
Family
Protect your family legacy by passing on citizenship to future generations. Even if they are born outside of Malta they can attain citizenship by descent;

Secure your children's future through a world-class education system;

Access to leading health care institutions; and

Relax in what has been voted as one of the safest countries in the world;
Live
You can opt to live, work, study and set up business in all the 27 EU states along with Iceland, Norway, Switzerland and Liechtenstein.

Gain settling rights in the following European countries;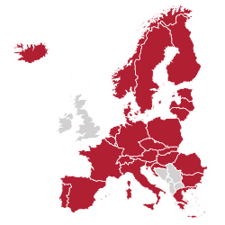 Netherlands












Vatican City
With the Malta Individual Investor Program, you become a Maltese
citizen by naturalization
process.
Our dedicated team of experts can help you at every step of the way for obtaining your Maltese citizenship. Contact us today.

One of the most powerful rights that Malta Citizenship by Investment offers is that of Freedom of Settlement.
So how does the Malta citizenship application process work? Let us dive deeper and explain,
Eligibility Criteria for Malta Citizenship by Investment
For you to be eligible for the
Malta Individual Investor Program,
you must meet several obligations,
namely:
Be 18 years of age, or older;

Pay and invest in the funds as described below;

Show the minimum residency requirement as detailed below;

Have medical insurance that covers you globally;

Have a clean criminal record;

Not be considered a potential national security risk;

Not having a reputational risk; and

Not subject to criminal proceedings.
Next, we will tackle the topic which poses important concerns.

Malta Citizenship Investment Requirements (Cost)
Citizenship by investment (Individual Investor Program) has a specific fee structure.
You are
NOT
required to pay the entire amount in one go.
The fees structure is divided into different sections, namely:
Contribution Fees;
Due Diligence Fees;
Passport Fees and Bank Charges.
You will be required to pay the amounts at different stages of the application.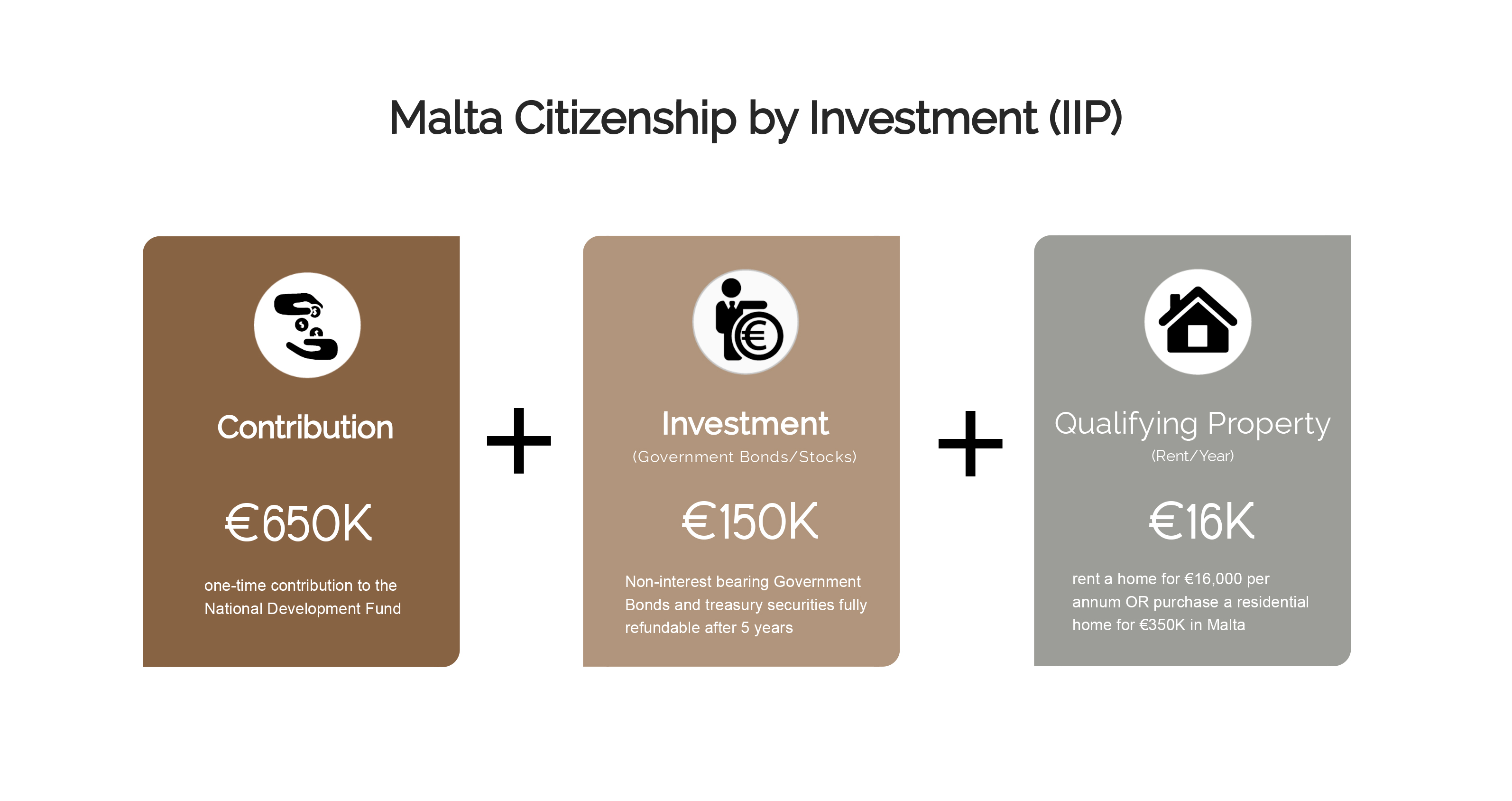 Malta Citizenship Investment Requirements (Cost)

Contribution Fees*

Main applicant: €650,000;
Spouse and each child below the age of 18: €25,000;
Each dependent parent aged 55 or older and each unmarried child aged between 18 and 26: €50,000.

Property Requirements (Qualifying Property)

Acquire a property in Malta having a minimum value of €350,000 and retain it for a period of at least 5 years; OR
Lease property in Malta for a minimum annual rent of €16,000 and retain it for a period of at least five (5) years.

Investment Requirements

Invest in Malta an amount of at least €150,000, in amongst other stocks, bonds, debentures, special purpose vehicles, or other investment vehicles as may be identified from time to time, and retain the investment for at least five (5) years.
(*) - Only € 10,000 of the above fees are payable upon submission of the application, with the rest payable only after receipt of the Letter of Approval.
Due Diligence Fees (Payable to authorities)

Main Applicant

€7,500
Spouse, adult Children and Parents
€5,000
Children aged between 13 and 17
€3,000
Passport Fees and Bank Charges

Passport
€500 per person
Bank charges
€200 per application
Residence Requirements
The main applicant must prove that he has been a resident of Malta for a period of at least 12 months, preceding the issuance of the naturalisation certificate.
As you can see, all large
amounts are paid

after
you receive the
Letter of Approval in Principle.
This makes the Malta IIP a fair process with minimal investment risk.
Malta Citizenship Application Process
(Get your Malta Passport in just over 12 months)
The application process to acquire Maltese Citizenship is very stringent; taking around 12 months to complete. It starts with the submission of an e-Residence Application and ends with the issuance of a certification of naturalisation.
(Expand below to learn more).
Step 1: Eligibility Criteria and Documentation
Endevio ensures eligibility of the applicant and takes care of the documentation and preparation of all the required documents.
Step 2: Residency Permit
An application for the residency permit is submitted to start the 12 - month residency requirement for citizenship. Your physical presence is required for biometrics.
Step 3: Application Submission
Post the Malta Police Approval, Initial Background checks followed by Compliance Approval and exhaustive Due Diligence Process, the application is submitted to the Malta Individual Investor Programme Agency (MIIPA) along with payments due. It takes approximately 21 weeks from step 1 to step 3.
Step 4: Application Process
After a 120 days review period, MIIP confirms if the documentation submitted is formally in order, subject to further investigative due diligence. Once your due diligence process is satisfied, an approval letter is issued by MIIPA. It takes about 39 weeks from step 1 to Step 4.
Step 5: Contribution Fees Settlement
A formal request is issued whereby you are required to settle the contribution (fees mentioned below) within 20 working days. It takes about 52 weeks to reach this step.
Step 6: Investment Requirements
Here you have to provide evidence of qualifying property investment, portfolio investment, health insurance and genuine links. Monetary requirements for the same are mentioned below under the investment requirement section. The professional team of experts at Endevio can help you in gathering all that is required at this stage.
Step 7: Oath of Allegiance
After all the IIP obligations are fulfilled, you along with your family members, will be invited to take an Oath of Allegiance in Malta.
Step 8: Certificate of Naturalisation and Maltese Passport Application
The Government of Malta issues the Certificate of Naturalisation, and the processing of Maltese Passport Application reaches its final stages.
So, all in all, it will be fair to say that the entire Malta citizenship process takes about 55 weeks to complete, post which, you are issued with the Malta Passport.
Conclusion
Malta, as a country, is attracting a wealth of talent and economic prosperity.
Malta's stability and fast-paced development are making it a new hub for
growth
and
business opportunities.
This program can offer you and your family the settlement and growth rights not only in Malta but 27 other EU countries. You and your family will have a passport which is yours for life and therefore worth every penny
that is put
towards it.
We hope this guide to
Malta Citizenship by Investment
will help you in the near future.
If you are interested in knowing about your relocation options; for all the assistance you require, please feel free to reach out to us at info@endevio.com.