Non-European nationals can acquire Permanent Residency in Malta through the Malta Permanent Residency Programme (MPRP). Permanent Residency in Malta allows you to move and settle down in the country and enjoy the benefits of the status. It also allows you to maximise visa-free travel to all Schengen Areas.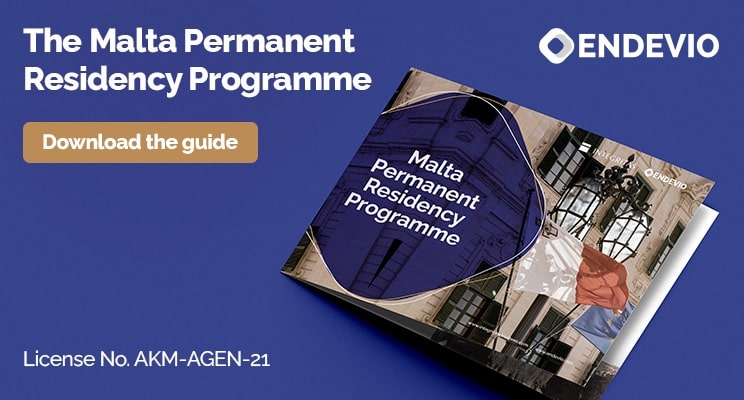 Download our guide for an in-depth view of the MPRP.
Aside from the MPRP, non-EU/EEA/Swiss nationals may still acquire residency in Malta through the Malta Global Residency Programme (MGRP), the Malta Ordinary Residence, and the Malta Single Permit Application. These programmes have different requirements and eligibility, all offering residency in Malta, one of Europe's dynamic countries.
Malta Permanent Residency Programme
The Malta Permanent Residency Programme (MPRP) is the official name for Malta's Golden Visa. It allows non-European nationals and their families a permanent state in Malta, avoiding tedious renewals or mandatory minimum physical stays.
There are two investment options, depending on whether you opt to purchase or rent a property. Both offer the same benefits for a lifetime.
Applicants must satisfy the following requirements for the MPRP:
Be 18 years old or older

Have a certificate of good health from a reputable health system
Have a total net worth exceeding €500,000 (of which €150,000 must be financial assets)

Have a stable and regular source of income

Have a clean criminal record

Not be considered a potential national security risk

Not have a reputational risk
Not subject to criminal proceedings
The MPRP also grants Permanent Residency to the dependants, such as children and parents, under one application. This allows children to retain their status even when they reach adulthood. Moreover, the Permanent Residency may also extend up to the spouses of children and grandchildren.
Malta offers many ways for foreign nationals to reside in the country. For applicants to stay in Malta for more than three months for employment, studies, or other reasons, you may apply for a Residency Permit. But if you aim to spend a lifetime in Malta, the MPRP is what you're looking for. Contact our team and let's get your application started.