The Malta Permanent Residency Program (MPRP) grants Permanent Residency status in Malta, one of Europe's most dynamic economies within 12 weeks of submitting a complete application. The program allows qualifying family members to join under one application and retain their status for life.

As a result, the applicant and family members can stay indefinitely in Malta while enjoying lifetime access to the 26 Schengen countries.

The program is unique among Golden Visas since it provides Permanent Residency from the start, thus avoiding tedious renewals. The program also has no minimum physical stay requirements in Malta.

Under specific circumstances, the program can lead to citizenship rights within 5 - 6 years.

There are two investment options to choose from, depending on whether you prefer to invest or rent a Malta property. No matter which option you decide to go for, the benefits remain the same - and for life.

The program has been made affordable by including means-testing. By way of example, under the rental option, a family of four would cost less than EUR40,000* per person over five years.
This granting of Permanent residency is regulated by L.N. 121 of 2021. We can assist with the whole process of applying under the new program.
Applying for Multiple Generations
Five generations under one application.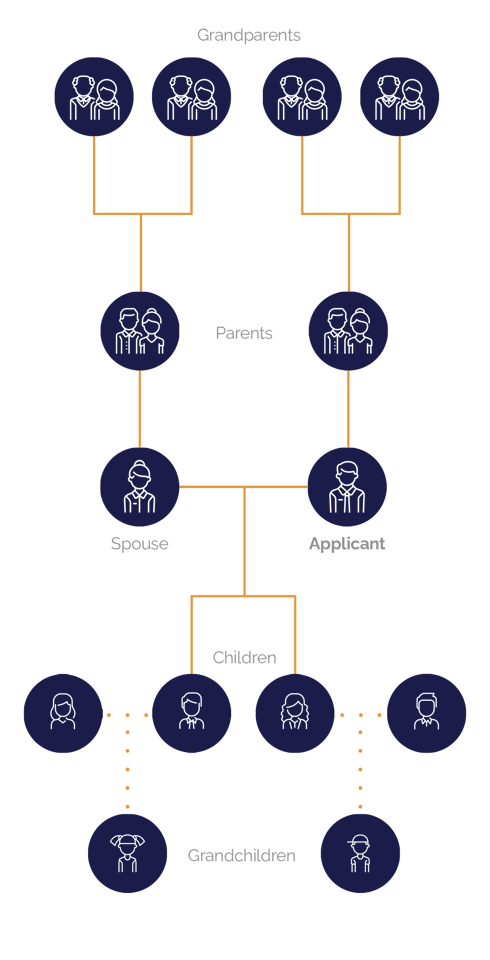 Top 23 Benefits of Malta Permanent Residency Program
Living in Malta can have numerous benefits, we thought we'll make it easier for you and list of Malta PR benefits down.
Here are the top 23 benefits of Malta Permanent Residency Program.
Business Benefits with Malta PR
Base your operations in European Union's fast-growing economy.

Opportunity for unlimited access to the European Union, the world's largest economic zone.
Investment options in a stable and booming real estate market.
Family Security through Permanent Residency in Malta
Relax in one of the safest countries in the world.
Access to leading health care institutions.
Secure your children's future through a world-class education system.
Apply for a European Long-Term Residence Permit after 5 years in Malta.
Personal security for you and your family, in case of instability in your native country.
Affordable real estate options for buying a second home.
The eligibility to apply for naturalisation as a Maltese citizen.
Travel Benefits with Malta PR Card
Mobility is key. Lifetime travel without border checks across 26 Schengen visa countries.
That means no more time-consuming Schengen visa application hassles.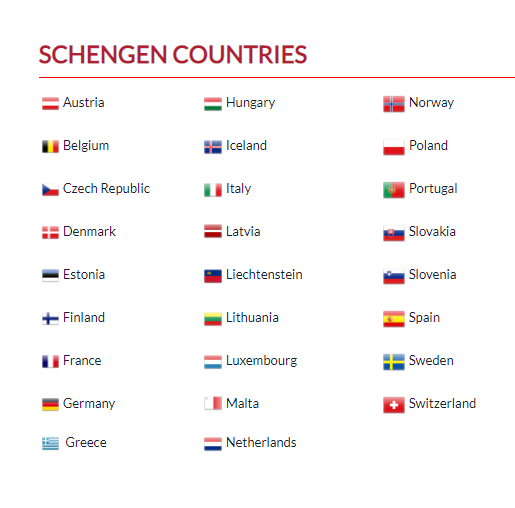 Settlement Benefits to Malta PR holders
The right to indefinitely reside, settle and stay in Malta for life.
Enjoy a progressive and politically stable country.
Live a relaxed Mediterranean life.
Enjoy the warm summers and moderate winters.
Easily communicate through English as an official language.
Affordable yet amazing standard of living.
Infinite profitable investment property options.
Pollution-free environment.
Top 12 Reasons to Choose Malta PR
These are the top 12 Reasons to Choose Malta PR:
Member of the European Union (EU).

A fast-growing economy in the EU rated A+ by Fitch and A2 by Moody's.

Member of the Schengen Area.

Member of (British) Commonwealth.

Political and Economic stability.

Excellent business opportunities.

English as a primary language.

Euro (€) as the base currency

Voted 2nd safest country in the world (World Risk Index 2020).

First-class health service.

Top educational system.

Repeatedly voted as the best climate in the world.
Malta PR Cost
Continue reading to know in detail about the cost breakup for buying Malta PR.
Full Contribution Option
Contribution to Government
€ 98,000
Mandatory charitable donation to a Maltese registered NGO
€ 2,000
Renting of a residential unit for five years in the South of Malta and Gozo
€ 10,000
Reduced Contribution Option
Contribution to Government
€ 68,000
Mandatory charitable donation to a Maltese registered NGO
€ 2,000
Purchasing of residential unit for five years in the South of Malta and Gozo
€ 300,000
Real Estate Options
It is also possible to rent or purchase real estate in other areas in Malta. In this case, the minimum rent is €12,000 per annum, and the minimum purchase price is €350,000
Malta Permanent Residency Application Process Timeline
Below is the step-by-step application process timeline for Malta PR card.
Step 1: Engagement Stage
Initial due diligence checks
Letter of engagement
Optional background verification report
Engagement Stage Costs
Professional Fees
Initial professional fees 1
Variable
Optional background verification report
Variable
Step 2: Compilation & Submission Stage
RMA Submission Fees
Non-refundable administrative fee (to be paid within 1 month from submission)
€ 10,000
Optional background verification report
Variable
Professional Fees
Balance professional fees
Variable
Step 3: RMA Processing Stage
Start of RMA due diligence
Independent due diligence review
Possibility of clarification requests
Step 4: Approval Stage
Letter of approval issued by RMA
Payment of contribution to RMA 2
Fulfilment of government contribution
Fulfilment of qualifying property
Approval Stage Costs
Application Administrative Fee 3
Principal applicant, spouse & children
€ 30,000
Each parent & grandparent
€ 7,500
Government Contribution 4
Government contribution (depending on the chosen option)
€ 28,000/€ 58,000
Mandatory Donation
Maltese registered NGO
€ 2,000
Qualifying Malta Property 5
Minimum purchase
€ 300,000
OR
Minimum rent (per annum)
€ 10,000
Qualifying Insurance 6
Malta medical insurance
Variable
Step 5: Malta Permanent Residency Stage
Certificate of residence issued.
Collection of biometric data in Malta.
Malta residence card issued.
Step 6: EU Long-Term Residency
Lived in Malta for five years 7
Proof of stable & regular income 8
Complied with integration measures 9
Index

to the application process timeline
The professional fees vary according to the complexity of the principal applicant's affairs and each of the dependants.

The contribution, either €68,000 or €98,000, is payable to the Residency Malta Agency (RMA). Out of this amount, €10,000 is initially payable as a non-refundable administrative fee upon submission. The initial amount can be paid within 1 month from submission.

The contribution covers the principal applicant, their spouse/partner and any economically dependent and unmarried children. The administrative fee of €30,000 is to be paid within 2 months from the issuance of the letter of approval in principle. Other adult dependants, including parents and grandparents, can be added at an additional €7,500 each. Such amount is payable upon applying.

Depending on the chosen option by the applicant, Full Contribution of €98,000 while renting a property. OR the Reduced Contribution of €68,000 while purchasing a property; the remaining balance of €28,000 or €58,000 respectively has to be paid by the applicant within 8 months from the issuance of the letter of approval in principle.

The qualifying property must be held for a minimum period of 5 years and can be achieved through either:

Acquisition at a minimum value of €350,000 or through a lease at a minimum annual rent of €12,000 per annum. OR

Acquisition at a minimum value of €300,000, or through a lease at a minimum annual rent of €10,000 per annum for properties located in Gozo or the South of Malta.

The Medical Insurance Policy must cover all-risks Malta. It must cover in-patient and outpatient care in Malta to a minimum level of cover of €30,000 per annum per person.

Periods of absence from Malta shall not interrupt the period referred to and shall be taken into account for its calculation as long as they are shorter than six consecutive months and do not exceed in total ten months within five years.

Stable and regular resources are sufficient to maintain the principal applicant and the members of his/her family without recourse to the social assistance system.

The principal applicant and the members of his/her family may be required to attend culture and language courses.
Additional Information
The administrative fees (covering the work of processing, due diligence, etc.) and government contribution for the principal applicant, spouse, and children are covered by €68,000/€98,000.

An additional fee of €7,500 for a spouse, a parent, or a grandparent will apply. A cost of €5,000 for any adult children added after the initial approval will apply.
Malta PR Eligibility Criteria
The principal applicant must meet all the application requirements:
Be 18 years of age, or older;

Have a certificate of good health from a reputable health system.

Have a capital of €500,000 (of which €150,000 must be financial assets).

Have a stable and regular source of income.

Have a clean criminal record.

Not be considered a potential national security risk.

Not have a reputational risk.

Not subject to criminal proceedings.
About Integritas & Endevio
In an ever-changing world, the decision to structure and manage wealth through a Family office can be complex.

Whether you are or working for a private individual or a family office, we provide unified advice on a full range of services, investment structuring, corporate, and regulatory.

Our scope is to help high-net-worth clients design and put in place a unified, holistic and workable structure to hold their assets and manage them in conjunction with other professional advisors. Whether your goal is to dedicate efforts to philanthropy, increase asset protection or achieve the orderly transfer of wealth for the next generation, we will guide you through the process of realising these goals.

Through Integritas and Endevio strategic partners' international presence, we have vast experience in developing and providing holistic services that are suited for each client.

Integritas & Endevio are notable Malta-based firms that deliver excellence in the international market. The firms are known for their quality in dealing with the full range of corporate services and advising high-net-worth clients on their private affairs.
Get in touch with us now!