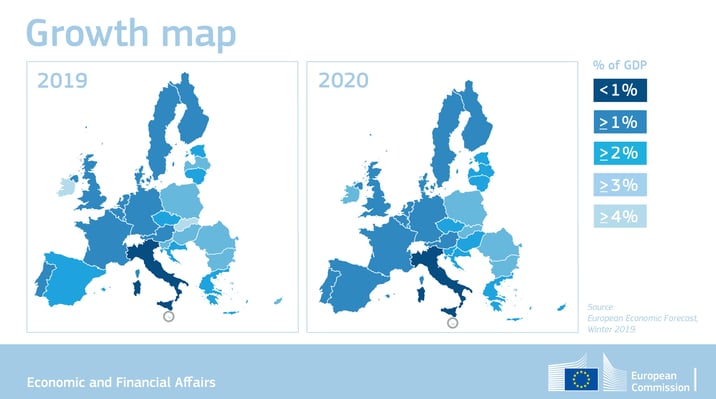 The European economy is expected to grow for the
seventh year
in a row in 2019, with expansion forecast in every Member State.
The report states that Malta's economy is projected to grow the fastest in the European Union.
Maltas' growth rate is projected at 5.2% this year and 4.6% in 2020, by far the best among all EU member states.
Malta's economy
maintained a strong growth trajectory in 2018, with a particularly sharp expansion in the third quarter.
In 2018, the real GDP growth is estimated to have reached 6.2%, making Malta one of the most progressive economies in the EU.
As per the
National Statistics Office
(NSO), the government recorded a surplus of €127.8 million, as total revenue increased to €1,234.5 million, while total expenditure increased to €1,106.7 million.
The increase in revenue was supported by vital growth in revenue from both direct and indirect taxes reflecting the record increases in employment and the robust growth in private consumption.
Investment remained subdued in the first three quarters of 2018, especially in non-residential construction and transport.
In 2019 and 2020, real GDP growth is set to ease to 5.2% and 4.6%, respectively.
As global demand moderates, economic growth is anticipated to continue relying on domestic demand, supported by high private and public consumption.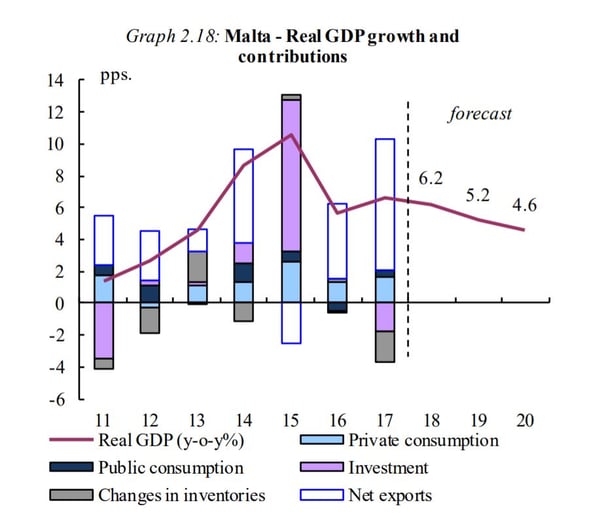 Generally, all European countries will go through economic growth even with the downward forecasts. External factors, including the slowdown in emerging markets and trade tensions, are put into consideration.
According to the Euro and Social Dialogue Vice-President, awareness of all possibilities and risks is half of the job. The other half involves pursuing prudent fiscal policies, facilitating investment, and redoubling efforts to carry out structural reforms.